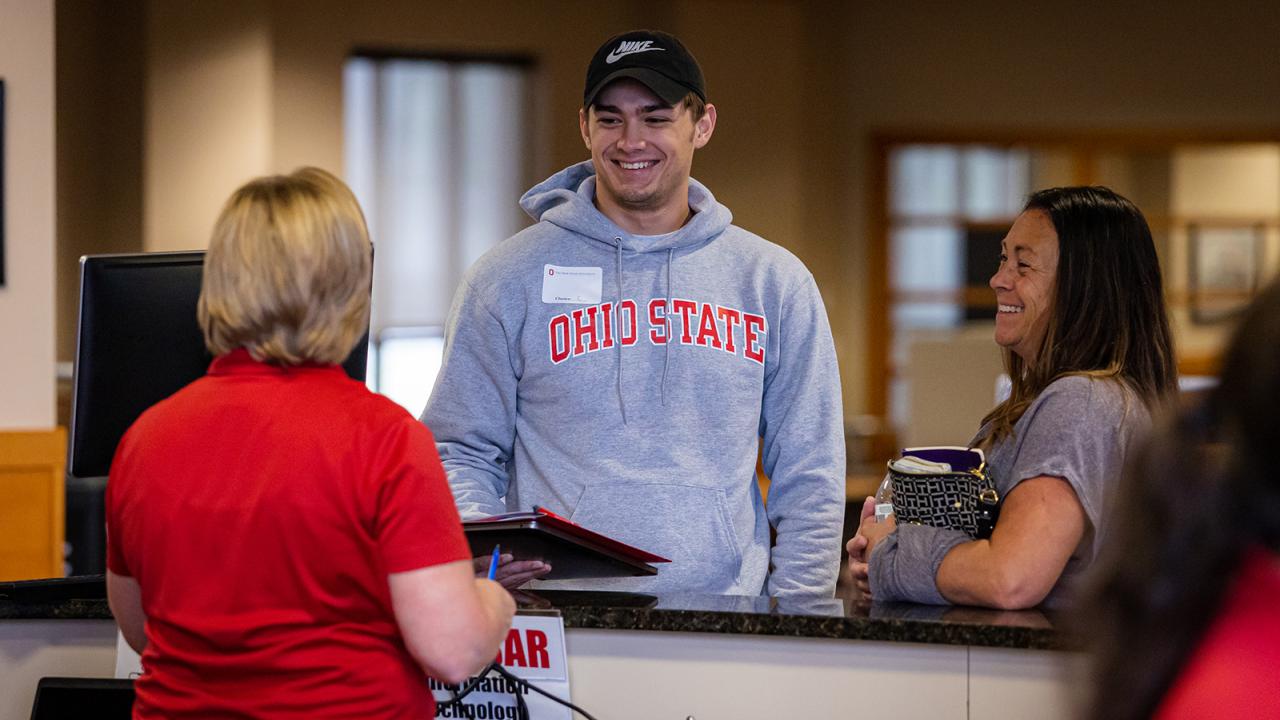 New Student Orientation
New Student Orientation is a four-step process which culminates in an in-person orientation session (remote for transfer students) to complete your class schedule. The earlier you complete the steps below, the earlier you can schedule your courses.
Contact us
If you need help completing any of the steps below, please contact the orientation and placement testing office. 
Step 1: Register for orientation
After you have accepted our offer to attend Ohio State Newark and submitted your acceptance fee, you will receive an email invitation to register for New Student Orientation once it opens. Orientation registration opens based on the term you are admitted:
Autumn admit: Mid-May
Spring admit: Mid-October
Summer admit: Mid-March
If you have not yet accepted admission and paid your acceptance fee, visit the admitted students webpage to understand what you need to do to be eligible to register for orientation.
To register for orientation, go to My Buckeye Link. Enter your username (lastname.#) and password to log in. Once logged in, look for the "Admissions" section (last section on the left side of the page). Click on "Orientation Information" and follow the steps to register for orientation.
After you have completed the registration process, a message will be sent to your Ohio State email address confirming your registration and indicating the placement tests you are required to take. Please allow up to two business days to gain access to the placement tests you are required to take once you have registered for orientation. You can then proceed to step 2. If you do not have any placement tests to take, please proceed to step 3.
Step 2: Take required placement tests
If you do not have any required placement tests to take, proceed to step 3.
Placement testing requirements are determined by ACT/SAT/AP scores and any college-level coursework already completed. Be sure you have requested your official ACT/SAT/AP scores and/or transcripts from other institutions to be sent electronically to Ohio State to ensure proper placement testing assignments and avoid taking unnecessary exams. 
The placement tests you are required to take will appear in your orientation confirmation email and on your To Do List in My Buckeye Link. Click on the links below to learn more about each of the tests you need to take and how to gain access to them.
If you believe there is an error in which placement tests you are required to take, please contact the Orientation and Placement Testing Office at 740.366.9333 as soon as possible.
Test accommodations
It is very important that the review for accommodations and then placement testing occurs in the appropriate order. Accommodations are not retroactive, so if a placement test is taken prior to the review by Student Life Disabilities Services to determine accommodations, it cannot be retaken. Start by completing the online disability services application. Contact Student Life Disability Services at 740-366-9385 with questions.
Step 3: Complete online pre-orientation module in Carmen
Before attending orientation, you should complete the online pre-orientation module in Carmen. To access, go to carmen.osu.edu and log in with your last name.# and your password (the same information used to log in to other Ohio State programs). You should see a course in Carmen titled "New Student Pre-Orientation Module." The content is organized in modules and there are comprehension quizzes between modules. Please complete the entire module before orientation.
First-year students
The first-year student orientation program is held on campus. You will schedule a morning or afternoon orientation program date which includes your academic advising appointment. The on-campus orientation program will include:
Welcome from Newark campus academic leaders

Presentations from Center for Student Success, Office of Student Life and Office of Academic Advising

Student class scheduling session

Department open houses following the orientation program
Transfer students
Transfer student orientation is a remote appointment with an academic advisor. The Carmen Orientation course will need to be completed prior to the orientation date. We recommend that you attend as soon as possible. When selecting your orientation date using the instructions above, you will select either a morning or afternoon timeframe. You will then receive an email to your Ohio State email with your specific appointment time and format (phone or Zoom).
Congratulations!
You are now registered for classes and ready for the start of your first semester as a Buckeye.
Next Steps:
Check your Ohio State email regularly.
Complete any items that appear on your To Do List in My Buckeye Link.
Review the Student Resource Guide presented to you at orientation.